Friday was a wonderful day for U.S. stocks, which posted their biggest gain since 2008. Investors finally bought the dip, including during a ferocious late-day rally that led major market indices to close over 9% higher.
We'll see if that holds on Monday. Right now, the news looks grim, as futures hit "limit down" overnight Sunday. That follows another rate cut from the Federal Reserve, which cut its benchmark interest rate to zero.
The negative response isn't all that surprising, given that a smaller 50 basis point cut earlier this month only served to spook equity investors and extend that day's sell-off.
But in this volatile market, futures haven't always signaled the nature, let alone the direction, of the following day's trading. Indeed, futures plunged overnight Thursday before Friday's monster rally. Bulls may roar again on Monday.
For investors who believe that will be the case and that the worst has passed, Monday's big stock charts should be of interest. Despite the broad sell-off, all three have managed to hold long-term support levels. That alone should suggest upside going forward with a little bit of external help.
Intel (INTC)
It's not terribly surprising that Intel (NASDAQ:INTC) managed to find a bottom last week. Even after a staggering 19.5% gain on Friday, the first of Monday's big stock charts does suggest the rally could continue:
Not only has INTC stock found support, but it managed to re-take the 200-day moving average on Friday. And what's particularly helpful is that the momentum built as the session went on. Shares opened up 6% and rallied nearly 13% as the session went on. That was true of the market as a whole as well, but INTC's intraday gain was far larger.
The fact that support held does make some sense. Even in this market, investors likely couldn't pass on the opportunity to pass on the stock near August lows. Since then, Intel has posted a pair of blowout earnings reports. Fourth quarter results in January were particularly impressive, with Intel crushing Wall Street estimates.
There are risks here. The declines from February highs show that chip sector weakness can bring shares down. As impressive as results were relative to expectations, Intel still saw operating profit decline in 2019 and guided for modest growth in 2020.
But as I wrote last month, Intel has a lot of work left to do — which actually is good news. Poor execution has allowed the likes of Advanced Micro Devices (NASDAQ:AMD) and Nvidia (NASDAQ:NVDA) to challenge Intel's dominance. But results are holding up regardless, meaning improved performance should drive growth in the coming years. Investors remembered that fact on Friday, and if they continue to do so, INTC should hold the 200DMA and potentially rise from there.
Paycom Software (PAYC)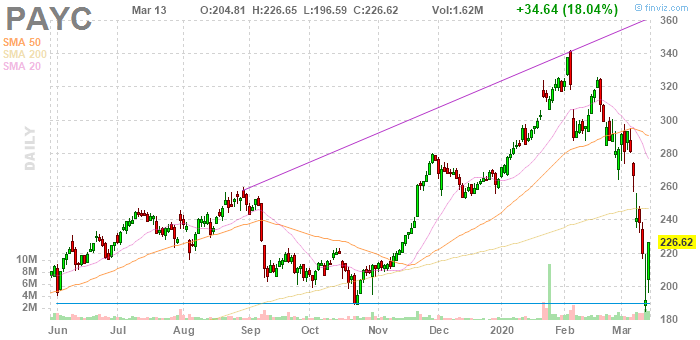 Software developer Paycom Software (NYSE:PAYC) ricocheted off support on Friday, gaining an impressive 18%. But, if only from a 'feel' standpoint, the second of our big stock charts does look a bit less optimistic:
Despite the rally, the trend clearly remains negative. PAYC lags moving averages, having failed each in rather short order. The 18% gain on Friday helps, but PAYC stock still closed the week down over 15%. There's a real possibility Friday's gain was a "dead cat bounce" rather than a sign of a bottom being in.
The worry from a fundamental perspective is that Paycom Software stock isn't cheap or even close. Shares trade at over 50x the current consensus earnings per share estimate for 2020 — an estimate which hasn't yet moved all that much. Earnings growth is expected to be impressive, at over 20% this year and next, but it's fair to wonder to what extent even that growth is priced in.
That aside, PAYC also highlights a risk that investors potentially underestimated in recent years. The growth opportunities in software are impressive. But investors in the sector seem largely to have forgotten about cyclical risk. Paycom's "human capital management" software, for instance, obviously relies to at least some extent on employment growing. One core worry about any bull market is that investors start extrapolating the present into the future for perpetuity and forget about the risk of a downturn. Trading in PAYC so far in 2020 might be what happens when they remember.
Chewy (CHWY)
In context, the performance of Chewy (NYSE:CHWY) so far in 2020 hasn't been too bad. Shares are down just 10%, against a 16% decline in the S&P 500. The third of Monday's big stock charts suggests that performance could improve:
Shares did skyrocket on Friday, gaining 14% after holding 2019 support. But they rallied on Thursday as well — at least in the second half of the session. CHWY stock in fact bounced 10% from its intraday low, and kept that momentum going on Friday.
One concern is that volume has been light. Volume Friday actually was modestly below the three-month average, which unsurprisingly was not the case for the market as a whole. For the S&P 500, in fact, share trading was more than double the average.
Looking forward, Chewy stock represents an interesting gauge of sentiment. Short-term impacts on the business in theory should be relatively minimal. In fact, there's a case that Chewy sales could get a boost. Presumably, at least some pet stores are going to close. Consumers are going to spend less time going out. To feed their pets, they may turn to Chewy. And that wouldn't create a purely short-term boost; the company could acquire customers that will stick around for the long haul. Zoom Video Communications (NASDAQ:ZM) rallied through the sell-off based on a somewhat similar thesis.
Yet CHWY isn't cheap; in fact, it isn't even yet profitable. ZM stock, meanwhile, fell last week despite potential longer-term impacts after it became basically the most expensive stock in the market. So is this a sell-off driven by short-term fears — or broader valuation worries? Chewy stock might provide the answer.
Vince Martin has covered the financial industry for close to a decade for InvestorPlace.com and other outlets. He is long shares of Chewy, and has no positions in any other securities mentioned.